New regulations, E Procurement and Managing Risk - are you up to speed?
25th June 2014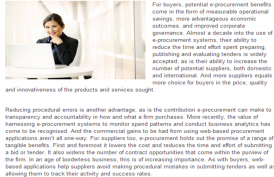 There has been a lot going on this month! Here is a snapshot of the topics that we cover in the newsletter:
• Are you up to date with Regulations? A new report can help you keep in good shape
• e-Procurement; Benefits for Buyers and Suppliers. Are you using online e-procurement software?
• Top Tips for managing risk in a regulated environment
• Low cost sourcing in Taiwan. Learnings from a recent Lime Associates' project
• Advance notice of a Supply Chain SIG meeting; Medical Product Deliveries: The final 100 metres
• And last, but not least, it's goodbye to former Lime Director Lee Robinson!
If you haven't got time to click on the link to read the newsletter, but would like to book a meeting to get an overview of our service portfolio, please contact us
Categories: Supply Chain Management