Intelligent partnership offers cost savings to medical businesses
1st May 2012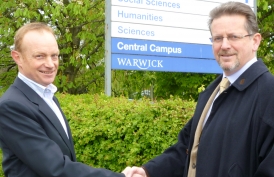 Specialist Medical manufacturing consultancy Lime Associates has signed a strategic partnership with EPI International to make its iCEO cost saving and process optimising software available to its growing client base.
Using its unique understanding of the Health Technology industry combined with the iCEO (Intelligent Cost and Efficiency Optimisation), business improvement programme, developed in conjunction with the University of Warwick, Lime Associates will be able to help clients to understand their costs, reorganize their spend profile and streamline business processes to eliminate waste, improve efficiency and save money.
Commenting on the venture, Lime Associates' Chairman Malcolm Worrall said; "Cost cutting alone is a dangerous strategy as it invariably affects services. iCEO is a more intelligent approach that facilitates a fast analysis of our clients' current spend and delivers dramatic results. We have already saved over £12 million for clients since we launched two years ago and we're confident that iCEO will help us to increase this and bring additional value to our clients."
Of the collaboration, Nick Close from EPI International said: "We're delighted that Lime Associates will be using our proven iCEO software including CEO Planner, Process and Value Optimiser systems to deliver outstanding and sustainable results for their clients."
Lime Associates' team of consultants are currently engaged on Supply Chain, Cost Reduction and Business Start Up assignments with prestigious clients including Smith & Nephew, Scapa, Owen Mumford and Australian biomedical company Tissue Therapies.
Lime Associates is the only Purchasing and Supply Chain Consultancy in the UK that services the Medical and Health Technology industries exclusively.
Categories: Cost Control, Cost Reduction, Consultancy, Health Technology, Medical Device, Bio-Tech, Start Ups