Enterprising Sheffield Academy appeals for local business support
19th June 2013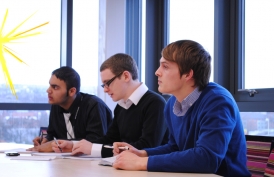 The Peter Jones Enterprise Academy in Sheffield is appealing for businesses to come forward to support the Academy's Entrepreneurship courses.
Set up by Peter Jones CBE, entrepreneur and star of Dragons' Den, the Peter Jones Enterprise Academy at the Sheffield City College further education courses in Enterprise and Entrepreneurship that offer a fresh approach to business education by focusing on the value of 'learning by doing'.
Graeme Tidd, Business Enterprise Manager at the Academy said: "The support of the local business community is fundamental to the success of our courses. Without local entrepreneurs to encourage, enthuse and engage the students, our offering would be very similar to that of other colleges. The business owners bring the courses to life and help to equip the students with valuable entrepreneurship and career development skills."
One Sheffield business that had added value to the Academy by supporting its Business Surgeries is Lime Associates, a specialist medical purchasing and supply chain consultancy. Its Purchasing Director, Lee Robinson said; "It's very rewarding to work with students who are hungry to learn and are driven to develop ideas. More than 99% of British businesses are SMEs (Small to Medium Enterprises) like Lime Associates and it's vital that we play our part in nurturing tomorrow's entrepreneurs and captains of industry."
"Lee's involvement has been invaluable" said Graeme Tidd "People like him make the course work and we could do with more of them."
Representatives of companies of any size are invited to help Graeme and his team by supporting Business Surgeries, taking students on placements, assigning projects and generally giving them valuable business experience and knowledge.
The Peter Jones Enterprise Academy aims to equip future generations of entrepreneurs with the skills and mindset to run their own businesses and offers five unique courses in Enterprise and Entrepreneurship for those aged 16 and above at 38 Academies nationwide.