Sheffield medical technology consultants help Oxfordshire Medical Device manufacture to choose ERP System
28th November 2013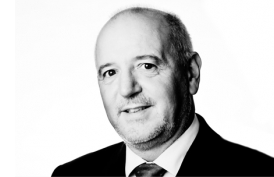 Sheffield based specialist medical purchasing and supply chain consultancy, Lime Associates has completed an assignment to assist global medical device manufacturer Owen Mumford in its choice of computer system upgrade.
In order to support its current growth and future expansion plans, the Directors at Owen Mumford recognized that they needed to invest in their IT systems, and in particular, a company-wide management system known as Enterprise Resource Planning that helps to integrate all processes across such departments as Finance, Quality, Manufacturing and Customer Service.
Gavin Jones, Group Finance Director of Owen Mumford engaged the Lime Associates team on this project because of Lime Associates' track record in effective contract negotiations and their knowledge of both the Medical Device industry requirements and ERP implementation projects.
Lime Associates' Supply Chain Director Dr. Stephen Langron (pictured) led the project team and explained the process; "Over a three month period, we interviewed Owen Mumford users to understand their specific requirements and researched the ERP industry to find potential suppliers with a client base including companies of a similar size and industry to Owen Mumford. From this research, we established a short-list of suitable vendors and indicative costs to enable Owen Mumford to plan and budget for the project.
"In the next phase the short-listed ERP suppliers provided financial bids via our e-procurement tool. In addition to competitive pricing each bidding company demonstrated their system and provided reference site visits to see their system in action.
"This methodical approach enabled us to directly compare each vendor based on their cost, their functional fit to Owen Mumford's needs and how Owen Mumford staff perceived the system's "user friendliness". On this evidence, Owen Mumford chose to partner Bracknell based leading ERP software provider, Epicor Software Corporation.
Congratulating Lime Associates on a very successful project, Gavin Jones said; "Aside from achieving on target completion for this phase, I believe you have facilitated an extremely professional system selection process culminating in successful contract negotiation with, in my view, the right partner for Owen Mumford. The foundations you have been instrumental in creating and the planning undertaken to date will no doubt assist us greatly as we move forward."
John Parker, Sales Manager at Epicor Software Corporation said; "We're delighted to win the contract and would like to congratulate the Lime Associates project team for their support and professionalism during the selection process."
Lime Associates is the only UK purchasing and supply chain consultancy that works exclusively with Medical Device, Biotech and Health Technology companies.
Categories: Case Studies, Training, Consultancy, Health Technology, Medical Device