Our latest newsletter
3rd September 2013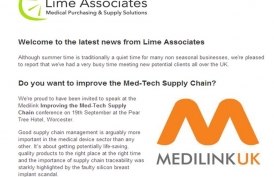 Although summer time is traditionally a quiet time for many non seasonal businesses, we're pleased to report that we've had a very busy time meeting new potential clients all over the UK.
Click on the download below to learn more about two key networking events
Improving the Med-Tech Supply Chain and Are you ruining your suppliers' performance? plus Top Tips to Help Make a Change in a Regulated Environment.