How ethical is your procurement and supply?
7th March 2014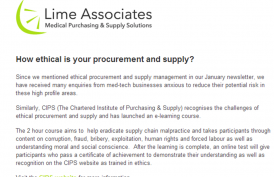 Latest news from Lime Associates. Click here to read it in full.
Since we mentioned ethical procurement and supply management in our January newsletter, we have received many enquiries from med-tech businesses anxious to reduce their potential risk in these high profile areas.
Similarly, CIPS (The Chartered Institute of Purchasing & Supply) recognises the challenges of ethical procurement and supply and has launched an e-learning course.
The 2 hour course aims to help eradicate supply chain malpractice and takes participants through content on corruption, fraud, bribery, exploitation, human rights and forced labour as well as understanding moral and social conscience. After the learning is complete, an online test will give participants who pass a certificate of achievement to demonstrate their understanding as well as recognition on the CIPS website as trained in ethics.
Visit the CIPS website for more information.
Categories: CIPS Professional Group, Supply Chain Management, Consultancy, Health Technology, Medical Device