Congratulations to our very own superhero!
15th July 2013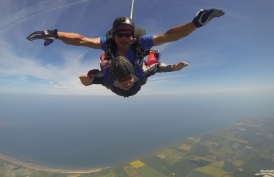 After disappointment when wind stopped play last month, Lime's Purchasing Director Lee Robinson finally got the chance to do his charity skydive. He took just 35 seconds to free fall the first 5000 feet of his tandem dive at 135mph and the next 5000 feet was a more leisurely 7 minutes gliding around admiring the east Yorkshire coastline.
"Well, I've done it! Most amazing experience imaginable and great fun! I would definitely recommend falling 10,000 feet when you have a spare 5 mins!"
Take a look at our facebook page for some fantastic images! He has raised almost £800 for the MS Society and the money is still rolling in! You can support him by clicking on Lee's Just Giving page. Thank you.