Benchmarking Ocean Freight - Case Study
1st April 2014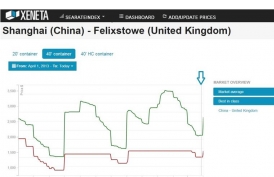 Our Client: This tool is applicable to anyone who buys containerised ocean freight or has ocean freight added to their delivered purchase costs.
The Project: Have you ever wondered about the current rates for container traffic on a particular sea route?
This is relevant if you are buying ex-works from an overseas supplier, you are shipping with a delivered cost to an overseas customer or if your supplier is charging freight back to you. In all of these instances knowing the current rates will give you a negotiating advantage with your incumbent supplier and highlight whether it is worthwhile getting quotes from alternative suppliers.
Any company can now do a quick and simple rate comparison using the benchmarking service of Xeneta. Not comfortable with using the service? Then call Lime Associates and we will quickly and efficiently run benchmarking for you.
Actions: Xeneta is a relatively new company set up by ex Kuehne & Nagel employees. It's a simple concept – in exchange for inputting your container freight rates you get to see the average rates on the same routes. It's all done via a web browser so it's easy to use and if you are spending any money on ocean freight it allows you to check if your rates are competitive.
The main features are …
• It benchmarks containerised ocean freight (currently this does not include refrigerated containers)
• You provide your rates (the Xeneta team can input the rates from your invoices to maintain data quality and consistency)
• You can then see your rates on the input routes plotted against up to date rates from the rest of the collaborators.
• You don't know who the other rates are for and whether their rates have some form of volume discount. But it gives you an indication of how competitive your rates are compared to the average and hence whether getting requotes for the route will be worthwhile.
• If you do not add data for a route you can still see the rates but not for the last 2 months.
• The service is currently free although Lime Associates expect Xeneta to start charging for added value services in the future.
Results: The table on the right shows an illustration of rates for the last 12 months for a 40' container on the Shanghai to Felixstowe route. The green line is the average that the benchmarking community has reported with the red line showing the best achieved rates. Note that company names are not shown, neither the buying company nor the freight company to ensure anonymity of participants.
Summary: Sign up is easy and Xeneta will give you a ½ hour demo as well. If you find that your container rates are high then Lime Associates are available to run a competitive freight tender for you.
To find out more about Xeneta, visit their web-site or call Lime Associates to discuss a review of your current freight arrangements.
To find out more or ask any questions, please feel free to contact us on 0114 213 8306, enquiries@lime-associates.com or www.lime-associates.com
Categories: Case Studies, Supply Chain Management, Consultancy