"Time well spent" - CIPS Health Technology Group Launch event
13th March 2012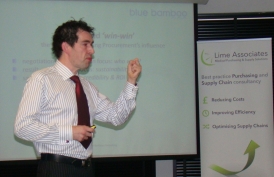 A new professional group that has been founded to address purchasing and supply challenges facing medical companies had its inaugural meeting in Sheffield last week.
Entitled 'Getting what Purchasing wants in a regulated environment', the CIPS (Chartered Institute of Purchasing and Supply) Health Technology Special Interest Group's first meeting was hosted by Lime Associates and attracted buyers from companies including Systagenix Wound Management, Owen Mumford and Sheffield Teaching Hospitals NHS Foundation Trust.
After an introduction by CIPS Head of Membership Malcolm Youngson, speaker Mike Bullivant shared his extensive knowledge of the complexities of regulatory impacts in the Medical Device industry and Ed Luttrell delivered an entertaining and thought provoking session on leadership and the art of influence.
Commenting on the launch, Founder and Chairman of the group Lee Robinson said; "We're delighted that this group has got the backing of CIPS and are pleased to report that our social media campaign has gained us contacts as far afield as the USA and South Africa. We currently have active members from companies including Genzyme, Owen Mumford, Astra Zeneca, Systagenix and Baxter but we would welcome more members to help us all gain maximum value from the group. The launch event has given us a solid base from which to grow and I'd like to extend my thanks to the speakers, the delegates and Lime Associates who kindly sponsored the event."
Delegate Paul Currah, Strategic Purchasing Manager at Owen Mumford travelled from Oxfordshire for the event and said; "It was great to get together with others facing similar issues in the industry and explore together how to address them. The regulatory topic was interesting and the training element with Ed Luttrell about influencing skills was a real bonus. Time well spent; just the kind of event that makes my CIPS membership so worthwhile."
Categories: CIPS Professional Group, Cost Control, Cost Reduction, Health Technology, Medical Device