Specialist Health Technology Consultancy celebrates second successful year
10th October 2011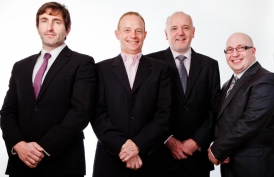 A team of manufacturing consultants from Yorkshire is celebrating after helping clients to save over £10million in the two years since it was founded. Sheffield based Lime Associates specialises in bespoke purchasing and supply chain solutions for the Health Technology Industry and already boasts a client base that includes Smith & Nephew, Owen Mumford, Sartorius, Scapa Group, Lantor, Genzyme and Chester Medical.
Commenting on the anniversary, Supply Chain Consultant Steve Langron said; "We're delighted to have exceeded our targets by developing relationships, gaining contracts and delivering results for these prestigious companies and look forward to growing the business further as we enter our third year."
Lime Associates was recently part of a team that delivered a three year plan to deliver substantial savings on cartons and recruitment costs for Oxfordshire medical device manufacturer Owen Mumford and resulted in the client being shortlisted for the prestigious CIPS (Chartered Institute of Purchasing and Supply) awards. Lime Associates' Purchasing Consultant Lee Robinson negotiated the contracts and was pleased with the outcome; "This is a great example of best practice purchasing and the benefits of building strong relationships with clients, and their suppliers. We invested the time to understand Owen Mumford's needs, worked with the team to develop the strategic plan and used our collective purchasing and supply chain management expertise to deliver the benefits."
Lime Associates was founded in the heart of the recession when companies' needs to deliver cost savings was at its most acute and its team of consultants comprises purchasing and supply chain management specialists who help clients to save money and improve profitability, cash flow and customer service. Lime Associates also benefits from a unique financing mechanism that allows savings in a company's indirect purchases to fund major cost reduction projects in other business areas, significantly reducing clients' financial risk.
Since launch Lime Associates has delivered, over £10 million worth of savings for clients.
Categories: Media, Cost Control, Supply Chain Management, Training, Consultancy, Health Technology, Medical Device, Bio-Tech, Start Ups, Lime In The News