The Role of a Responsible Person (RP)
22nd December 2015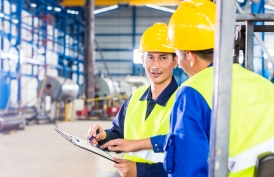 If your business operates in, or is a key supplier to the Pharmaceutical industry, maintaining the quality and integrity of medicinal products at every step of the distribution process is absolutely imperative.
This isn't just good practice, it's an integral part of the compliance process, and one of the key conditions of holding a Wholesale Dealer's License. In this post, Lime Associates' Supply Chain Director Steve Langron takes a look at the importance of a Responsible Person, exploring why you need one, before outlining their responsibilities and exploring the risks of operating without one in place.
Why you need a Responsible Person
Persons operating from the UK require a Wholesale Dealer's Licence (WDA) if, in the course of their business, they are engaged in:
• Procuring, holding, supplying or selling medicinal products for human use sourced in the UK or another EEA Member State, to anyone other than members of the public
• Importing medicinal products from a non-EEA Member State for export to a non-EEA Member State • Exporting medicinal products to a non-EEA Member State.
 
This includes virtual operations where no physical handling of the products takes place.
 
Directive 2001/83/EC requires that all licensed wholesale dealers should have at their disposal a Responsible Person (RP). In the UK this requirement is set out in regulation 45 of the Human Medicines Regulations 2012.
The risks of operating without a Responsible Person
Should the MHRA, FDA or other relevant regulatory body find out that your medical business is operating without a qualified responsible person in place, the consequences could be catastrophic.
As a key part of the licensing legislation, your business could face heavy fines, or even losing the license for the products affected, forcing a product recall, and having products pulled from the market.
The responsibilities of a Responsible Person
Title VII of the Directive 2001/83/EC explains that it is the role of a responsible person has to uphold the conditions of the Wholesale Distribution Authorisation, in that they must:
"safeguard product users against potential hazards arising from poor distribution practices as a result, for example, purchasing suspect products, poor storage or failure to establish the bona fides or purchasers"
These responsibilities include, but are not limited to:
Ensuring that the provisions of the license are observed.
Ensuring that the guidelines on Good Distribution Practice are complied with.
Ensuring that operations do not compromise the quality of medicines.
Ensuring that a quality management system is implemented and maintained.
Focusing on the management of authorised activities and the accuracy and quality of records.
Approving the initial and continuous training programme for all personnel involved in distribution activities.
Coordinating and performing promptly any recall operations of medicinal products.
Ensuring that relevant customer complaints are dealt with effectively.
Performing the qualification and approval of suppliers and customers.
Authorising the return to saleable stock of any returned medicines.
Approving any contract between the Contract Giver and the Contract Acceptor, which specifies their respective responsibilities relating to wholesale distribution and/or transportation of medicinal products.
Ensuring that self-inspections are performed at appropriate regular intervals following a prearranged programme and necessary corrective measures are put in place.
Delegating his/her duties (but not accountability) when absent and keeping appropriate records relating to any delegation.
Being involved in any decision to quarantine or dispose of returned, rejected, recalled or falsified products.
Ensuring that any additional requirements imposed on certain products by national law are adhered to, as foreseen in Article 83 of Directive 2001/83/EC
How Lime Associates can help
At Lime Associates, we're here to support your business with every aspect of your distribution and supply chain.
We provide a range of professional Responsible Person services, including contract RP support, advice on audit preparation and trial audits designed to ensure that your business stays compliant.
For further information on RP services from Lime Associates, or more about how we can help your business to optimise its distribution and supply chain, contact an expert member of our team today on +44 (0) 114 213 8306, or email enquiries@lime-associates.com.