Using United Nations Codes to Reduce Cost &Target Waste
31st July 2012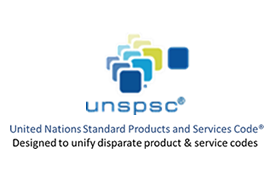 Widely adopted by corporate industry and governments worldwide, the UNSPSC® coding structure is the most effective tool for identifying the invisible duplication, administrative and lost opportunity costs that are endemic to modern complex organisations and particularly those with multi-site operations.
What makes UNSPSC® coding such an attractive option is its low cost simplicity; adoption doesn't require expensive changes / additions to existing business systems or endless days of costly internal or external consultancy.
Most general ledger coding systems are designed to allow CEOs to manage costs at a high level and optimise the P/L. They are not intended to facilitate detailed cost analysis and investigation leading to continuous improvement and waste management programmes.
UNSPSC® coding structures were designed to address cost visibility issues in complex organisations by creating universal standard codes for almost every industry product and service. These are then rolled up into more generic, higher level categories within a rational hierarchy allowing optimal management control and visibility of costs on a more consistent, widely applied basis.
In this example, Ball Point Pens are universally coded as UNSPSC code 44121704
Classifying spend in this system allows real spend costs to be compared between departments. It also has proved invaluable in multi-site operations and particularly in cases of mergers and acquisitions, quickly allowing clear visibility of costs across the new organisation.
The iCEO toolkit, developed in conjunction with the University of Warwick, extracts data from various company systems and converts their coding structures to the formalised UNSPSC® code. iCEO then provides powerful analytical tools to allow managers to 'slice and dice' the data at a granular level, identifying areas of waste and cost inefficiency.
iCEO has additional functionality encouraging the creation of continuous improvement programmes maximising cost and process efficiency and ROI into the future.
Lime Associates and their iCEO programme (incorporating UNSPSC®) have saved clients millions of pounds over the last two years. To find out how we can help you to expose invisible waste or to receive examples and case studies, please contact us on 44 (0) 114 213 8306 or visit the links below.
For more information about Lime Associates, please click here
For more information about iCEO, please click here
For more information, case studies and white papers on UNSPSC, please click here
Lime Associates is the only Specialist Medical Purchasing and Supply Chain
Consultancy in the UK.
Categories: Cost Control, Cost Reduction, Supply Chain Management, Consultancy, Health Technology, Medical Device, Bio-Tech, iCEO