Thanks to all of our Movember supporters!
2nd January 2013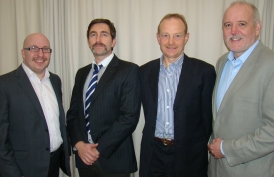 Thanks to the generosity of our clients, colleagues, friends and families, we were able to raise almost £800 for prostate cancer during Movember.
It was a difficult and sometimes itchy challenge but your support made it worthwhile; Paul Currah of Owen Mumford, Huw Jones of Matchtech, Dave Chapman of Independent Buyers, Gosia Kowenia of Expion Search & Selection, Mike Baum of Harrison Packaging, Graeme Passau of Champion Recruitment, Natalie Allen of elemense, Mike Bullivant of Bullivant Consulting, Mike Patrick of Covance, Paula
Jones of GSK, Andy Thelwell of Tissue Therapies, Paul Haylett of Smith & Nephew, Matthew Stork and Nigel Lewis. Here's to 2013!