Specialist medical consultancy celebrates fourth anniversary
29th September 2013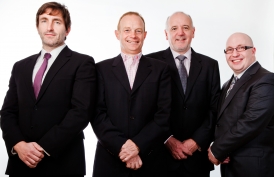 Sheffield based specialist medical purchasing and supply chain consultancy, Lime Associates has celebrated its fourth anniversary by posting record savings for clients.
In the four years since launch, the team of associates has delivered in excess of £18 million savings for medical device and health technology clients over a range of projects from recruitment to raw materials and packaging.
Chairman Malcolm Worrall said; "We set out to be a specialist consultancy operating in a niche medical market and this strategy has reaped dividends both for us and for our clients as we can assimilate knowledge quickly and integrate seamlessly with their complex businesses.
"We are proud of our achievements over the years, with notable successes that include several global low cost sourcing projects, major distribution and logistics assignments and a significant ERP implementation project for a leading medical device company. Our total cost reduction projects have also had a significant impact on inventory reduction, quality improvements and longer payment terms."
Drummond McKenzie, Director, Tissue Therapies, Australia can vouch for the company's claims, adding; "Lime Associates have demonstrated an in depth knowledge of medical grade logistics."