News from Lime Associates' roving football reporter James Cooper
21st June 2012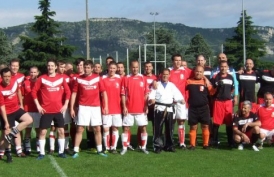 Congratulations to James Cooper, Lime Associates' Director and interim Global Category Manager at Scapa, for being top goal scorer at Scapa's equivalent to Euro 2012 – 'Le Tournoi'. Here's James's match report;
As Euro 2012 kicked off in Warsaw, a determined team of footballers from Scapa's Ashton site made their way to the South of France for the second Scapa football challenge. The inaugural event was played off between Valence, Rorschach and Ghislarengo, but the three teams welcomed a British contingent for the first time.
Due to prior commitments, only nine players were able to travel but they acquitted themselves well against teams with previous tournament experience. Pretournament favourites and hosts Valence were Ashton's first opponents and, after a tight match, the Frenchmen eventually ran out 3-1 winners with two late goals. Ashton's second match was against Ghislarengo and the team perhaps felt aggrieved to lose this game by 3-1, despite creating a host of chances. Following a victory on penalties against Rorschach, Ghislarengo set up a winner takes all game with the Frenchmen, due to the earlier Valence win against the Swiss. For Ashton and Rorschach it was a battle for third and fourth. Valence showed their class in the last game and ran out easy 7-1 winners against Ghislarengo, whilst Ashton battled through injury to beat Rorschach 4-2. So the trophy stays in Valence for another year, with the team who proved to be the best of the teams on show on the day. Rorschach will no doubt be plotting their assault on the competition and as hosts will have a great chance of winning in 2013.
As host site, Valence worked incredibly hard to put on the event and the day and previous evening were a credit to those involved.
All was not lost for Ashton though as they won the karaoke competition on the eve of the tournament. No 'nul points' for team Ashton!
Categories: Media, Cost Control, Cost Reduction, Consultancy, Health Technology