Medical device purchasing agent pays back 16 times - a 'tw-interview'
18th April 2012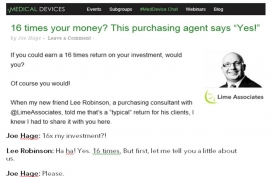 Here's the start of a twitter interview that was conducted in 140 character segments between Lime Associates' Lee Robinson and Joe Hage of the Twitter Medical Devices Group. The conversation starts in the box out to the right and continues below;
Joe Hage: 16x my investment?!
Lee Robinson: Ha ha! Yes. 16 times. But first, let me tell you a little about us.
Joe Hage: Please.
Lee Robinson: Lime Associates is a specialist Purchasing and Supply Consultancy based in the UK and we serve the entire world driving value for all our clients. We work entirely in Med Devices.
Joe Hage: Your LinkedIn profile has the auspicious letters MCIPS following your name. What does that mean?
Lee Robinson: Well, this is the Chartered Institute of Purchasing & Supply. Very prestigious for purchasing professionals…. I'm also chairman of the CIPS Health Technology group here in the UK, with members from all over the world, UAE, US, Africa and Europe. Helping purchasing people the world over with their medical buying needs.
Joe Hage, Medical Devices Group: Lee, help us understand: Who is your ideal client? What is a typical engagement? #MedDevice
Lee Robinson: OK, we work with all med device companies, from small/medium enterprise to multinationals. Typical clients are Smith & Nephew, Genzyme, Owen Mumford, etc.
Projects include anything that reduces cost or maximises value to our clients, such as low-cost sourcing or supply chain efficiency projects. We've delivered £12m in savings in the last two years.
Joe Hage: Ok, take us through the Smith & Nephew example. They hire you and …?
Click on the pdf below to read the rest of the article and please call if we can help you to save money or improve efficiencies.
Categories: Media, CIPS Professional Group, Health Technology, Medical Device, Lime In The News