Refreshing new look for consultants in support of rapid expansion
3rd April 2012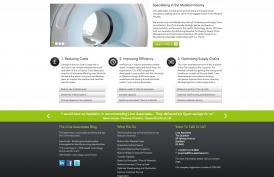 A specialist Medical manufacturing consultancy has unveiled a new look to support the exciting level of growth it is seeing in its business
Sheffield based Lime Associates commissioned a rebranding exercise as part of an ambitious growth strategy that will see turnover quadruple over the next five years.
The rebranding, created by Leeds business snapshot media, comprises a new logo, a new website and new social media profiles for all of Lime's Associates.
Commenting on the initiative, Lime Associates' Chairman Malcolm Worrall said; "We are proud of the fact we have saved over £12 million for our clients in the last two years and wanted our branding to convey a more professional image that would help us to realise our strategic objectives."
Malcolm continued; "Our growth plans include partnering with EPI International to offer clients the iCEO (intelligent Cost and Efficiency Optimisation) diagnostic and business improvement programme and recruiting more Associates with medical industry experience to help us to satisfy the demand for our Purchasing and Supply Chain consultancy services, and to better serve our customers."
Of the new look, client Heiko Hackel, Vice President Global Sourcing at German company Sartorius Group said; "The new logo and the website look very sophisticated and professional and in my experience reflect the way that the team at Lime Associates conduct their business."
Lime Associates' team of consultants are currently engaged on Supply Chain, Interim Management, Cost Reduction and Business Start Up assignments with prestigious clients including Smith & Nephew, Scapa, Owen Mumford and Australian biomedical company Tissue Therapies
Lime Associates is the only Purchasing and Supply Chain Consultancy in the UK that services the Medical and Health Technology industries exclusively.
Categories: Media, Medical Device, Lime In The News