Celebration, innovation and inspiration!
1st October 2014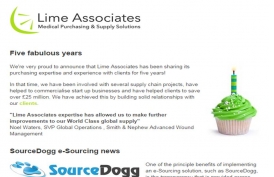 We're very proud to announce that Lime Associates has been sharing its purchasing expertise and experience with clients for five years!
In that time, we have been involved with several supply chain projects, have helped to commercialise start up businesses and have helped clients to save over £25 million. We have achieved this by building solid relationships with our clients.
Please download our latest newsletter below.
Categories: Cost Control, Cost Reduction, Supply Chain Management, Training, Consultancy