New group launched to address supply chain challenges facing medical companies
26th March 2014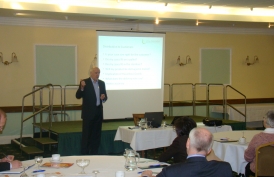 A new professional group to help deliver supply chain excellence in the highly regulated pharmaceutical and medical device industries held its inaugural meeting in Nottingham recently.
'Good Distribution Practice: delivering to your customers on time and to specification' was the subject for discussion at the launch of the Supply Chain Special Interest Group (SIG) that is a collaboration between Medilink East Midlands and specialist medical technology supply chain consultancy Lime Associates.
20 delegates participated in the event and welcomed speakers Andrew Portess, Quality and Regulatory Affairs Manager, UDG, Richard Shore, Commercial Director, Movianto and Steve Langron, Supply Chain Director of Lime Associates and founder of the Supply Chain Special Interest Group.
The Supply Chain SIG is aimed at professionals in pharmaceutical medical device and healthcare technology companies who are interested in improving the supply chain in the Med Tech sector and brings together manufacturers, NHS, academics and service providers to network and share best practice.
Steve Langron said: "The SIG is a great platform for the industry to share best practice on how to control risk and enhance the customer's experience.
"The initial meeting was a great success and helped us to shape the direction of the group."
Darren Clark, CEO for Medilink EM, said: "The SIG is a perfect way to share best practice between academics, manufacturers and supply chain professionals in both the NHS and medical and healthcare companies."
The topic for the next meeting of the SIG is July Medical Product Deliveries: the final 100 metres and it will be held on 17th July at a venue yet to be confirmed.
Medilink EM is the East Midlands life science industry association, whose aim is to help companies establish, develop and grow. Medilink EM is a founding member of Medilink UK; a national network supporting over 3,000 companies across the entire UK.
Lime Associates is the only UK purchasing and supply chain consultancy that works exclusively with Medical Device, Biotech and Health Technology companies. Lime Associates' team of consultants is currently engaged on supply chain, cost reduction and business start up assignments with prestigious clients including Futura, Baywater and Bespak.
Categories: Supply Chain Management, Consultancy, Health Technology, Medical Device